This tutorial is to help you understand the way you submit a story. It is really easy once you get the hang of what to do, but as some places have different ways of submitting a story, I made this up to help guide you along.

Once you sign up and have an account, head to your Account Info. You should come to a screen that looks like this: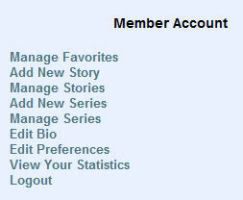 Click on Add New Story, or if you are posting a Series, you click on that link. You should now be in at the input screen.

This is where you input your Story Title, the summary (you can place your story Banner here, remember that banners on Gluttony can not exceed 600(w) x 110(h) in pixels).

To insert a banner you use the following code (without the *):

<*img src="your banner url here"*>
To shrink banners that are sized 700x110 the code is (this allows you to shrink it without distorting your image):
<*img src="your banner url here" height="94" width="600"*>
If you have the tinyMCE text editor turned on, on the second line of icons, you'll see an image of a tree. Click on this button and a window will pop up allowing you to enter the URL of your image, making it easier to input graphics (you may have to enter the image description and title for it to accept). If you wish to resize, click ob the Appearance tab and enter in desired dimensions. To see how you can use this feature, please see the Formatting Tutorial.
Story Notes (if there is any information you wish to give your readers about your story, you can type that here. It will appear above your chapter index; however, you can leave this blank as there are other places to type you're Author's Notes).

The next part is selecting the categories where you want to submit your story. This is done by first choosing the main Category of your story.



Once that is selected, it should be highlighted. Then use the
button to move it across to the blank box beside it.





You'll also notice that when you click on one of the major Categories, a bunch of sub-categories show up as well. Once you have chosen your main Category, you can go back to it, click on it again to see the sub-categories and select the type/genre you would like to sort your story into.




You must repeat this process for each one as the software doesn't allow you to select more then one at a time. This part of the process will place your story into those categories, so when someone browses the archive for a Harry Potter story that is set in the Next Generation era, your story will come up in the results (if that is the sub-category you chose).

The next part is selecting your Characters, Genre's and warnings for your story. Find what you want to select and click on it to highlight it. To add additional Characters, Genre's and warnings, you press and hold the Ctrl button while selecting each new addition.




Remember, press and hold the Ctrl button on your keyboard to select new additions.




Once that is finished you now can select the rating of your stary and click the little box if your story is completed, leave it black if it is a WIP (work in progress).

The last step is adding your chapter/story. Enter in the Story/Chapter title, then you may use the Chapter Notes to add in any Author's notes. The next box is where you enter your story text, then the End Notes is used to enter any other additional Author's notes you need to add in. It is always advisable to hit the Preview button before you submit. This allows you to view what your submission will look like and you can check for any mistakes. Once you are happy with your submission, click on the Submit button.